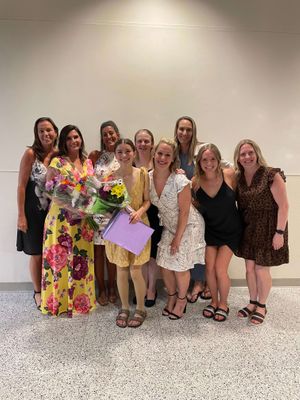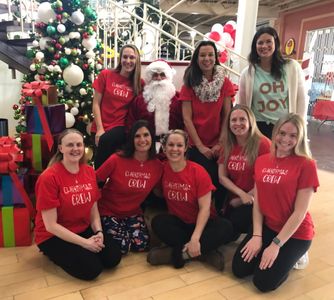 Meet the Staff
A Pittsburgh Dance Studio that believes in "Dancing for a Difference!"
Megan Kamberis
After 14 years as an instructor at the studio, Megan is pleased to take on the ownership of Dance Workshop. She is excited to continue the traditions of a 30 year business as well as creating a vision for the future. Her background and experiences have prepared her for this leadership position. Megan is a 2001 graduate of Point Park University with a Bachelor of Arts degree in dance. She also has apprenticed at Dance Alloy and has had 12 years of performance experience. Her teaching experience includes instruction in all dance techniques from preschoolers to advanced dancers. As Coach Kamberis, Megan has lead many High School Dance Teams and currently is the head coach for the Upper St Clair High School Hip Hop and Dance Competition teams. Megan is looking forward to her new role as the owner and director of Dance Workshop and all the possibilities for the studio!
Shari Opfermann
Founder and Director of Dance Workshop by Shari. The journey began 30 years ago when Shari opened the studio doors in 1991. A graduate of Point Park University with a BA degree in Dance it was a dream to own a dance studio to teach and share her love of dance. Shari is a member of Dance Masters of America. She is also honored with a Hall of Fame recognition at her alma mater, Upper St Clair High School.
Through the past three decades of studio ownership Shari has established an award winning dance company, a performance company, fitness program, implemented the Princess Ballerinas themed dance classes, and most importantly a non-profit organization "Dancing For A Difference" in 2008. This non-profit has inspired the dancers as well as staff to use their creative gifts and talents to make a difference for others. Since it has been established thousands of dollars have been raised and donated to various organizations including Children's Hospital of Pittsburgh and St Jude Children's Research Hospital.
I am forever grateful for the 30 years of studio ownership and the lifetime of memories with so many wonderful dance families and teachers as well as making a difference in the community. I am looking forward to my continued role as a teacher and being part of the awesome Dance Workshop team of teachers who together we have shared many blessed years filled with God's goodness!
Nikki Daley
As a young member of a competing and performing group, Nikki has had the thrill associated with working hard and performing well. Her time dancing with Sandra and Shari while growing up inspired her to want to share what she learned with other dancers. She is an energetic and exciting teacher of all age groups and all dance disciplines, but tap is her passion. She has passed her love of dance on to her son, Zack, who is a 2011 graduate of the Dance Workshop Super Stars. He is also the former Junior Mister Dance of Pennsylvania 2005!
Launda Waterman
Gymnastics has been her life! She is very accomplished in this field and has been able to use her skill and talents to teach and inspire confidence in her students. Launda was a member of competing teams during her high school years. She is USAG Safety Certified and has won numerous awards for choreography for her group and solo acrobatic routines. Being honored at the many local and national competitions doesn't thrill her as much as watching her students master that difficult move that they have been working on. She encourages the students to work hard and keep trying while still making it fun for them. Launda is a certified Zumba instructor and has her AFAA certification from the Aerobics and Fitness Association of America. She is also certified to teach Kick-boxing.
Christina Liebert Boone
Christina grew up at the studio as an award winning member of the Super Stars. She trained in all disciplines of dance, Zumba, and was especially accomplished in acro-dance. Christina graduated from Penn State with a degree in Elementary Education and is currently teaching in the Baldwin-Whitehall School District. While attending college, she was the captain of the nationally recognized Lady Pantherettes Dance Team. Through her leadership, they advanced to the highest national placement in the history of the team. We are excited to have Christina on staff teaching hip hop and other dance styles. She also received her Zumba training in 2011.
Janet Wilkes
Ms. Janet received her B.A. in Dance from Point Park College with a concentration in Jazz and Ballet. Prior to attending Point Park, she attended the Pittsburgh High School for Performing Arts (CAPA). She also had the opportunity to study with the Civic Light Opera and the Pittsburgh Ballet Theater. In addition to her expertise in jazz, tap, ballet, pointe, and modern, Ms. Janet also has trained and taught gymnastics. She has been teaching since 1997, and has received many awards for her choreography. Janet has also inspired her daughter, Ashlyn, who is a member of the Dance Workshop Super Stars.
Sandra Nunley
A graduate of Point Park College, Sandra holds a Bachelor of Arts in Dance. She has grown up with a true love of dance, starting in her early years as a member of an award winning competitive group under Shari's direction. During her years at Point Park, she had the opportunity to participate in ballet and modern productions at the Pittsburgh Playhouse. And Sandra has never stopped learning. She regularly attends classes and workshops to further her skills in dance techniques and teaching methods. Her innovative choreography has earned her several awards at local and national competitions. With 20 years of teaching experience, she is excited to work with students of all ages, sharing her love of the art and motivating them to do their best!
Katie Tolley
After 15 years of dance education at Dance Workshop, Katie went on to Point Park University to receive her bachelor's degree in Dance. She graduated in 2009 and then spent 5 years performing on Royal Caribbean cruise ships travelling around the world. She also stayed actively involved with the studio between cruises teaching dance and acro classes. As a trained Zumba instructor, you can find Katie conducting Zumba classes, teaching dance and acro, or producing award winning choreography for the studio.
Sophia Stoicovy
Sophia joins the teaching staff at Dance Workshop this season. In addition to the teaching staff, Sophia is also certified as a Zumba instructor. She is a recent graduate from Thomas Jefferson High School. In addition to being at the studio she is also attending California University of Pennsylvania with a major in special education. Sophia grew up dancing at Dance Workshop for 15 years and loved performing and competing as one of the Shining Stars. Sophia was also a member of the Thomas Jefferson High School gymnastic team too. She is excited to step into her next role as a dance teacher and a fitness instructor this year.
Ashlyn Wilkes
Ashlyn studied dance at the studio for 16 years and has been assistant teaching since she was 10. She was a part of our award winning competition team and also performed with our shinning star group. She has won countless awards, overalls, and judges awards at competitions. Also attending many conventions such as Tremaine, Intrigue, Access Broadway, and Artist Simply Human while learning from choreographers such as Rudy Abreu, Brodie Rachelle, Deana Brickley, Kevin Aubin, Holly Ryder, Chad Mccall, David Mann, Tiffany Maher, Tony Bellissimo, Laurie Johnson, Derrick Schrader, Lauren Garrett, Jill Marie, and many others. Ashlyn is also a 2019 graduate from Pittsburgh Creative and Performing Arts middle school and high school as a dance major. She learned from many teachers there including Leslie Braswell, Tony Dixon, Greer Reed, Dan Karsiak, Renee Polanco, James Washington, Kevin Maloney, and Kaylin Horgan. Through school she attended the National Highschool Dance Festival and attended many dance workshops from college instructors. Also during her middle school and high school journey did performances for local dance companies in Pittsburgh. She now is currently pursuing a bachelors degree in Science of Nursing at Community College of Allegheny County.